PECOS ENTERPRISE
Daily Newspaper for Reeves County, Trans Pecos, Big Bend, Far West Texas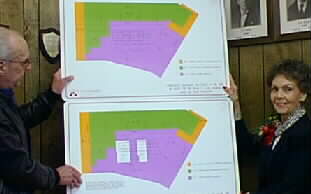 Before and After Zone Maps
Pecos Mayor Dot Stafford, right, sporting her birthday corsage, and mayor pro-tem Elvia Reynolds hold two maps showing present C-1 zoning in the Parker Heights Addition of Eddy Street and what would be zoned C-2 if the council so chose. However, the council voted Feb. 27 to reject a recommendation from the Pecos Planning and Zoning Commission to change the zone from C-1 to C-2 that would have allowed the sale of beer and wine for off-premises consumption. La Tienda Thriftway and Pecos Autoplex filed application for the zone change. See related story in News.
Pecos Enterprise
Mac McKinnon, Publisher
Division of Buckner News Alliance, Inc.
324 S. Cedar St., Pecos, TX 79772
Phone 915-445-5475, FAX 915-445-4321
e-mail news@pecos.net