PECOS ENTERPRISE
Pecos Chamber of Commerce
Jan. 24, 1997
See story|Archives Menu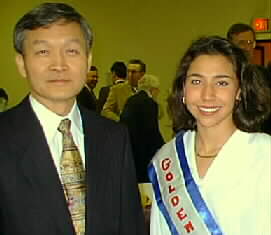 Citizen of the year
Dr. W.J. Bang poses with Golden Girl Lindley Workman after being named citizen of the year at the Pecos Chamber of Commerce's annual awards banquet Friday night. Dr. Bang has been a surgeon and general practitioner in Pecos since 1974 and currently serves as Precinct 2 commissioner for Reeves County. Workman won the Golden Girl of the Old West title during the July 4th rodeo week celebration last year. She is a Pecos High School senior.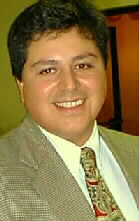 At left, Paul Hinojos accepts the gavel as president of the Pecos Chamber of Commerce before more than 300 guests at the annual awards banquet in Reeves County Civic Center Friday.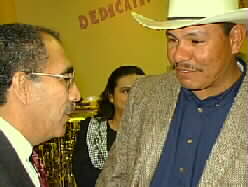 Pecos City Councilman Ricky Herrera, right, visits with David Alba after the awards banquet. Alba, chief special agent for the FBI's El Paso region, was keynote speaker. He is a native of Pecos, and his mother still lives here.
Pecos Enterprise
324 S. Cedar St.
Pecos, Texas 79772
915-445-5475, Fax 915-445-4321
e-mail