PECOS ENTERPRISE
Daily Newspaper for Reeves County, Trans Pecos, Big Bend, Far West Texas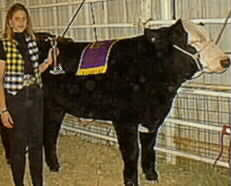 Junior Livestock Show Winners
Courtney Clark shows off her grand champion steer, a Simmental that sold for $2,000 at the Reeves-Loving County Junior Livestock Show and Sale this past weekend in the Reeves County Civic Center. Larry Wooten of Roswell, N.M. was auctioneer for the sale that netted 4-H and FFA members $61,400.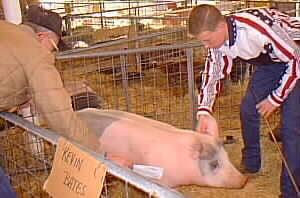 Earl Bates confers with his son, Kevin, who is preparing one of his four hogs for the next class competition Saturday morning. Kevin's crossbred hog was named reserve grand champion of the two-day show. It sold for $700 in the premium auction Saturday night. Robbie Phillips of Levelland judged the 129 hogs entered. Jerry Bearden, ag teacher from Mason, judged lambs, and David Kight of Garden City judged steers.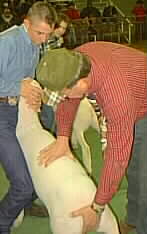 At right, Shawn Fowlkes holds his lamb for Jerry Bearden to check muscling in the hindquarters and firmness along the backbone. Fowlkes showed the champion cross lamb.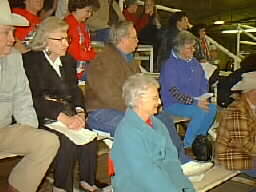 Carolyn Rankin, in green, watches her granddaughter, Kelli Rankin, show the grand champion hog for the third year in a row. Rankin's Yorkshire won the Other Pure Breeds division and grand champ honors. Families and friends fill the bleachers for the show and return on Saturday night for the premium sale. Rankin's grand champion sold for $1,600.
Pecos Enterprise
Mac McKinnon, Publisher
Division of Buckner News Alliance, Inc.
324 S. Cedar St., Pecos, TX 79772
Phone 915-445-5475, FAX 915-445-4321
e-mail news@bitstreet.com
Associated Press text, photo, graphic, audio and/or video material shall not be published, broadcast, rewritten for broadcast or publication or redistributed directly or indirectly in any medium. Neither these AP Materials nor any portion thereof may be stored in a computer except for personal and non-commercial use. The AP will not be held liable for any delays, inaccuracies, errors or omissions therefrom or in the transmission or delivery of all or any part thereof or for any damages arising from any of the foregoing.
_

Copyright 1997 by Pecos Enterprise