PECOS ENTERPRISE
Daily Newspaper for Reeves County, Trans Pecos, Big Bend, Far West Texas
Home of the World's First Rodeo, Pecos Cantaloupes, cotton, oil, gas and sulphur.
News from Marfa, Alpine, Fort Davis, Fort Stockton, Marfa, Monahans, Presidio
Rare snowfall blankets desert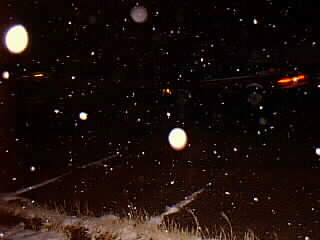 Headlights capture snowflakes
Snowflakes caught between a digital camera lens and a passing car Tuesday night look as big as baseballs. Intermittent snowfall since Sunday is estimated at three inches. It is the first substantital snowfall in Pecos since Halloween, 1993. Sleet-slick streets early Wednesday gave way to clearing skies and warmer temperatures in the afternoon. See related story in Archives
Pecos Enterprise
Mac McKinnon, Publisher
Division of Buckner News Alliance, Inc.
324 S. Cedar St., Pecos, TX 79772
Phone 915-445-5475, FAX 915-445-4321
e-mail news@bitstreet.com
Copyright 1997 by Pecos Enterprise